Why you need Ivanovic Law Offices
Since 1995 Linda Ivanovic has dedicated her practice to exclusively family law.
Linda Ivanovic has attended extensive specialized training to provide the most tax advantageous maintenance, child support, and family support calculations. She will provide you with calculations relating to shared placement payers, split time payers (children on different placement schedules), and high income payer discount schedules if applicable. She will advise you as to whether payment of child support, maintenance, or family support has the best tax benefit for you. She will advise you as to the best tax filing status, and whether filing as Head of Household and/or claiming tax exemptions is the best tax filing in your circumstances.
Business Owners and Spouses
Linda Ivanovic has represented hundreds of business owners and spouses over her 20+ years of practice. She is experienced in scrutinizing business evaluations. She has evaluated buy-out agreements, and has successfully enforced valuation formulas at trial.
Physicians and Spouses
Linda Ivanovic has represented numerous physicians and spouses, and is familiar with the pay structures, profit based income formulas, concerns relating to partnership interests, and high income payer deviations from child support arguments available to such individuals.
State and Government Employees
Linda Ivanovic has represented numerous state employees, including police officers, firemen, teachers, and other city, county and state workers and spouses. She is familiar with the specific retirement plans of these entities and concerns relating to payroll and overtime.
Linda Ivanovic is experienced in handling divisions of retirement plans through the city, county, state, federal government, military, and private companies. She will advise you as to the appropriate Order for division, such as a Qualified Domestic Relations Order or Domestic Relations Order. She will advise you as to which plans are better to maintain (through a buy-out) or divide.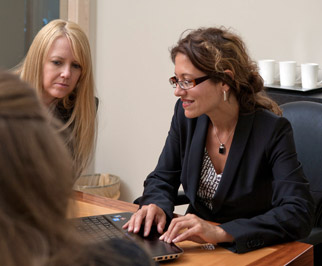 Commitment
Linda Ivanovic prides herself in her commitment to her clients, creative problem solving, and expertise regarding custody issues, tax issues, and divorce planning. She reviews Court of Appeals family law decisions weekly, to provide her clients with the current state of the law on legal issues. She attends family law update seminars where local family law Judges present their viewpoints and opinions relating to family law situations.
Linda Ivanovic is committed to her clients, refusing to leave the office until all clients calls are returned and concerns put to ease. Linda Ivanovic is reachable by e-mail at all hours of the day, including weekends. She treats all cases with the attention they deserve.
Linda Ivanovic is proud to present her team of family law specialists, specifically chosen for their ambition, dedication, and drive. All team members work together, collaborating regarding legal issues, brainstorming creative solutions, and furthering your legal position.
The breakup of your marriage is a serious event, affecting your future, your children, and your life. You need an attorney who will be responsive, aggressive, and relentless in relating to the issues that really matter. You need Ivanovic Law Offices behind you.
Our clients have experienced relief and security after retaining Ivanovic Law Offices. With your future in our hands, the future looks brighter.