Maxwell Carter
Education:
University of Pittsburgh – BS in Psychology 2018
Marquette University – Juris Doctorate 2022
Admitted to practice law in Wisconsin in 2022
Activities/Achievements:
Inducted as a member to Marquette University Law School's Pro Bono Society
Received certificate in Alternative Dispute Resolution from Marquette University Law School
Served as Treasurer for the Organization for Student Wellbeing at Marquette University Law School
Member of the Society of Family Lawyers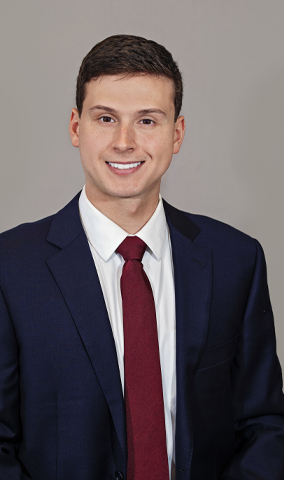 Max joined the office in June 2022, and has gained valuable legal and courtroom experience, having joined a group of seasoned attorneys that collaborate on issues. Max is reliable, focused, ambitious, and dedicated to his clients. The office has enjoyed seeing the smiles he brings to his clients when he addresses their issues and relieves them of their concerns and stresses. Being a younger attorney, and having recently graduated from law school, Max has the spunk, eagerness, and drive to provide the best representation for his clients, and will go the extra mile to make sure that happens.
While enrolled at Marquette Law School, Max volunteering in the Marquette Volunteer Legal Clinic (MVLC) as well as the Milwaukee Justice Center Family Law Forms Clinic. While working in the MVLC, Max worked exclusively with family law attorneys to help provide legal assistance covering a wide variety of family law concerns. Through the internship program at Marquette, Max interned at Centro Legal, gaining valuable experience working with divorce, paternity, and post-judgment cases, while once again working with attorneys who specialized in family law.
After stops in North Carolina, Ohio, Illinois, Michigan, and Pennsylvania, Max is happy to call Milwaukee his home. In his free time, Max enjoys cooking and is an avid football and basketball fan.