Linda Ivanovic
AFFILIATIONS
Wisconsin Bar Association Member Family Law Section
Society of Family Lawyers

President 2013-2014
President Elect and Treasurer 2012-2013
Secretary 2011-2012
Director at Large 2009-2011
Member since 2005

Matrimonial Inns of Court Member since 2011
Featured on Dateline NBC 1998
CURRICULUM VITAE
Marquette University Juris Doctorate 1993
Admitted U.S. District Court, Eastern District May 1993
Admitted Supreme Court of WI May 1993
Linda Ivanovic has been described as: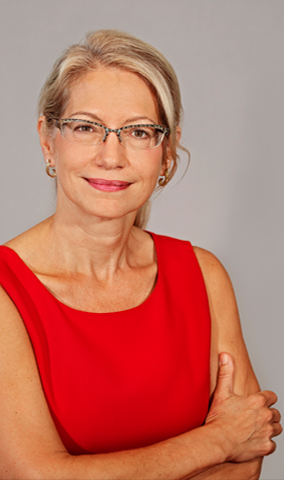 Ambitious - You need an attorney with spunk. Someone who is not simply going through the motions, but really enjoys their work. Enjoys fighting for you and obtaining your goals. Someone who is not burnt out in this area of law. Someone who reviews recent case law relating to divorce actions and is active in learning about new developments in this ever changing area of law.
Comfortable in a Courtroom - Most people assume that all attorneys are comfortable in a courtroom, as this is what they do for a living. Not true. I know many divorce attorneys who will do anything to avoid a trial in Court. These attorneys often convince their client they have no choice but to settle. I enjoy being in court; the courtroom is my playground.
As a divorce attorney for over 20 years, on average, I attend between five to ten Court hearings per week. With such experience I am able to advise you as to when you should settle an issue, and when to fight. I often tell my clients that we must "choose our battles." Some issues, such as who gets the frying pans, are not worth fighting for. Other issues, such as your children and financial future are worth the fight. I will guide you through the divorce process, and advise you regarding decisions along the way.
If things cannot be resolved, we will prepare for trial. I complete, on average, one contested trial per month. You will note that this is a high number, compared to many other divorce attorneys. The reason? I often am retained by clients who have difficult cases which cannot be resolved without a trial. I often have clients who hire me a month before their trial, as they are unhappy with their attorney. I also receive many referrals from attorneys involving cases with complex legal issues. I am an attorney who enjoys trial work. I am always prepared and ready to proceed. If I am recommending that my client go to trial, I am confident that we will win. It is very rewarding to succeed in trial.
Creative - You need an attorney who can see outside of box. Who will come up with creative solutions to your problems. Who can advise you of better ways to resolve issues. Who knows tax implications and how retirement plans can be accessed without penalties. You need someone with a fresh outlook.
Dependable - Another major complaint that I hear is that the attorneys do not return phone calls, often for weeks at a time. These types of attorneys are avoiding their clients. There is absolutely no reason, (with the exception being a vacation or illness), for an attorney not to return your call within 48 hours. If they do not, they are purposely avoiding you. Why? Most likely because they are not doing their job. They have not subpoenaed the records, they have not filed the motion, and they have not requested the information needed to represent your best interests. I will return your phone calls within 48 hours and will always be prepared and ahead of the game. I will take all necessary action to aggressively pursue your legal matter. I will keep you updated regarding your matter. You will feel confident and in control of your legal matter and your future.
Honest - An honest attorney? This sounds like a joke. However, this is no joke. Over the years I have met with hundreds of people who are looking for a "second opinion" because they are contemplating substituting and hiring a new attorney. One of the most common complaints I hear is that the attorney advised they could accomplish a goal, and then later stated it was not possible. These attorneys clearly made promises to clients that they knew, or should have known, they could not keep.
I will give you honest, accurate advice. I will tell you whether you have a strong or a weak case. I will advise you as to when to settle and when to litigate. I will represent your interests as if they were my own.
Organized - Look at your prospective attorney's office. Is it neat and organized, or in disarray? Does the attorney meet with you in the conference room because his/her office is a mess? Do you really want your important personal documents, upon which your future depends, lost among a pile of files? A messy attorney's office is a red flag.
Real - No theatrics. I know many attorneys who can put on a great show. When they meet with you they are loud, aggressive, and often boisterous. However, if you cut through all of the theatrics, little legal advice is given. I once had a case where a woman had met with an attorney for three hours prior to meeting with me. She was impressed with how he seemed very aggressive and excited about her legal matter. I spent one hour with her and advised her of the legal procedure, the law, and what would be needed to successfully attain her goals. None of this had been discussed with the previous attorney in three hours. She was thankful after meeting with me, as she then realized that the prior attorney was really "full of hot air" and really had not given her any legal advice at all.
I am not theatrical, nor loud and boisterous. I will be prepared to present the law and facts and I will articulately state your case so that we convince the Judge that we are correct. Do not fall for theatrics. When you go to Court you need an attorney who knows you, your case, the facts, and the law. You don't need an actor, you need a real attorney.
Specialized - You need an attorney who practices exclusively in the dynamic area of family law. If you needed heart surgery, you would not go to a general practitioner. Your life, and the lives of your children will be dramatically affected by a divorce. You need an expert who is dedicated to family law, who understands how the process works, is familiar with the Judges, Social Workers, Psychologists, and other experts in this ever changing area of law.
One of the common mistakes that people make is to hire their real estate attorney, or business attorney, for their divorce. Frankly, when I am not familiar with the opposing party's attorney, this demonstrates to me that this attorney does not specialize in the area of family law. This gives us an immediate advantage. I am familiar with State laws affecting divorce and I have reviewed recent decisions from the Wisconsin Supreme Court affecting family law. The Commissioners and family law Judges are familiar with me. They are confident that I would not argue a case that does not have merit. They know that I will fight hard for my clients when I believe in them and their cause. They know that I am honest. This gives my clients immediate credibility before the Court.
Relentless, professional representation - I often receive phone calls from people who are looking for an aggressive/ruthless "pit bull of an attorney." I would rather refer to my style of practice as determined, aggressive and relentless.
I do not pride myself in being unnecessarily rude. Attorneys that are of this type usually ignore the opposing attorney and client, refuse to settle any issues, take unreasonable positions in Court, and often get in the other attorney/client's face. I view this as unprofessional and counterproductive. Rudeness does not obtain goals. Knowledge is power.